History
Before 1945 garbage collection was performed only in commercial areas of Bridgetown to Worthing.
In 1945 the vestry of St. Michael assumed responsibility for the "scavenging" of the parish by setting up the "scavenging department" with its headquarters at church Village in the City. The department began with four (4) lorries obtained from overseas, and twelve (12) small pushcarts constructed locally. Additional assistance was given on weekends by borrowing three (3) lorries from the Central Road Board and hiring of two (2) vehicles from private individuals.
Towards the end of the 1940's the collection was extended to rural areas of the parish of St. Michael and public institutions, but removal of garbage from trade and manufacturing places was not included. Dumping at the time was done at Hill Road Bank Hall and behind the mental hospital. Lifestyle improvements and more sophisticated living standards by the 1960 changed the composition and quantity of garbage drastically.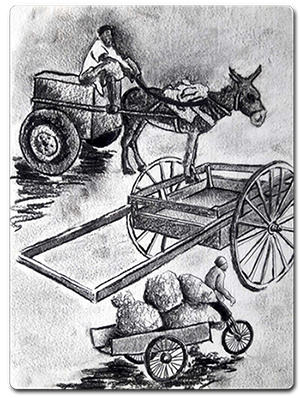 ---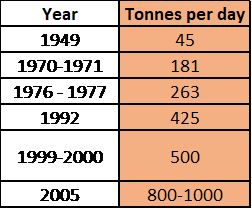 (Change in Volume of Waste Collected in Barbados 1949 – 2005)
---
Sanitary Engineered Landfill
The decision was taken in the 1980s to use sanitary engineered landfill facilities for the disposal of solid waste. These facilities are contructed with the necessary environmental protection elements such as protective lining & leachate collection system to ensure that the harmful components of the waste cannot escape into the wider vulnerable environment. Below is an image of the Mangrove Pond Landfill which represents a sanitary engineered landfill.
Mangrove Pond Landfill 2018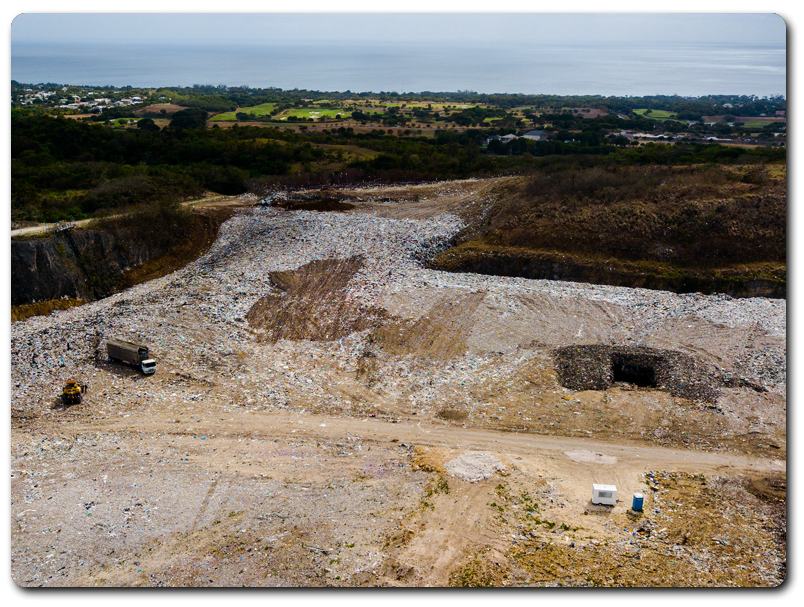 ---
Legislation
The Sanitation and Cemeteries Board  (1969-1974) was established by the Sanitation and Cemeteries Board Act which took effect from Sept 2nd 1969. On March 1st 1975 an Act to establish the  Sanitation Service Authority was enacted
The functions of the Sanitation Service Authority are set forward in the act as follows:-
To remove refuse from any premises as authorized by the Minister
To sweep, cleanse and water streets
To provide and maintain in a sanitary condition suitable places buildings and appliances for the deposit, disposal or destruction of refuse
To provide and maintain cemeteries, burial grounds and crematoria
The first priority of the newly established Sanitation Service Authority was to review programs for solid waste management, which is essential if Barbados was to remain a healthy jurisdiction for both visitors and residents
The Sanitation Service Authority is a Statutory Board, comprising of 11 eleven members.